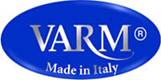 <![endif]>
COMPANY INTRODUCTION
VARM LTD., located in Civita Castellana (VT) Italy, has concluded 2 innovative projects patented in 145 nations, to eliminate hands' transmitted infections into public and private hospitals and to provide the highest level of hygiene in every public place.
Infections increase every year and they spread also into private houses, rest homes, districts, private and public practices, veterinary practices, hotels, fitness centers, schools, cruises boats, caravans and motor homes. It is not possible to quantify  infections because it doesn't exist relative publications. There are no specific safety regulations prescribing and preventing from the contraction of different infections in such places. The proliferation of these infections and the complete inadequacy of the prevention policies describe a huge threat for the whole community.
Results from the last analysis conducted by Biosan (laboratory accredited ACCREDIA)  on  microbial entities, viruses and bacteria by standing into the WC SYPHON show that:
THE MICROBIAL ENTITES BYSTANDING INTO A COMMON WATER SYPHON AMOUNT TO :
Microbial Count                  220.000 CFU/ml
Escherichia Coli                     40.000 CFU/ml
Intestinal Enterococci         74.000 CFU/ml
AFTER THE  TREATMENT WITH VARM UV DISINFECTION SYSTEM FOR TOIELT WC
SUCH VIRUSES AND BACTERIA ABATEMENT AMOUNTS TO 99%.
Licensed by BIOSAN (Laboratory accredited ACCREDIA)
In Italy there are about 700.000 hospital infections per year and the mortality is about 7.000/10.000 deaths per year with a cost for the Public Sector of around  € 4.238,037 per year. The average incidence of infections is 7%- 10% (data published by the Bocconi University in 2000). In Germany mortality due to nosocomial infections reaches 30.000 deaths per year (European Chronicles, blitz 05/15/2011). In the United States the incidence of nosocomial infection reaches the 105 in the hospitals every year (Source: centre for infection diseases and prevention, March 2009).
Varm Ltd.,  has finalized 4 innovative products, under patent pending procedure,  to  constrain the problem and to limit costs held by the private and public Health Sector in dealing with the argument .
FIRST PATENT
A VIRUS FREE TOILET SEAT COVER
Varm UVC's Toilet seat cover  (VARM VIRUS-FREE TOILET SEAT) allows to eliminate from WC up to 99,99% of microorganisms;         which cause several infections. Its function of UVC disinfection reaches out the complete inner surface  of the WC up to the toilet seat ring. It is a simple device that includes the great advantage to provide higher standard of hygiene and safety to everyone.
SECOND PATENT
UV DISINFECTION SYSTEM FOR A COMPLETE BATHROOM
(Washbasin, bidet, shower and floor drain well)
It was studied to eliminate viruses and bacteria coming from the sewer pipe up to the drainage pipes of washbasin,  bidet, shower and a floor drain well. The complete set of UV disinfection systems allow the abatement of 99% of all viruses and bacteria by standing into siphons and causing several infections. 
THIRD PATENT
MULTIUSE TROLLEY WITH PORTABLE WASHBASIN
Portable washbasin studied for the elimination of hands' transmitted infections and to help healthcare operators into their daily duty of taking care of assisted patients. This device has the double advantage to provide to healthcare operators a source of clean water for hands washing  procedure and to provide a very useful tool, thanks to its accessories, in dealing with patient hygiene.
FOURTH PATENT
A VIRUS FREE WC
The last patented system realized by Varm consists of a VIRUS- FREE WC. It prevents from the coming up of viruses and bacteria from the WC syphon up to the WC surface and spreading all over the surrounding environment. Viruses and bacteria are often the  cause of several diseases and illness.
Advantages of disinfection systems:
· Qualifies healthcare structures
· Reduces hospital infection costs
· Reduces insurance costs
· Reduces risks and legal arguments
· Reduces working time and risk of healthcare staff
· Easy maintenance costs
· Reduce the risk of infection spread around
· Reduces infections means to reduce mortality (7000 deaths per years in Italy - statistical data of Italian Ministry of Health and Cergas University of Bocconi, Milan published 2000)
· Reduces infections means to reduce of 8% - 10% the occupations of beds in hospital and the working time.